A publication of the Batish Institute of Indian Music and Fine Arts
---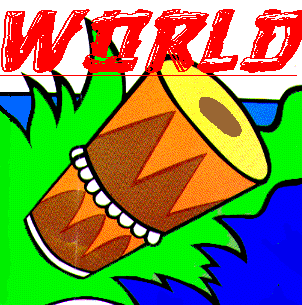 As the World Beats with Shakuhachi Master
John Kaizan Neptune
By Ashwin Batish
---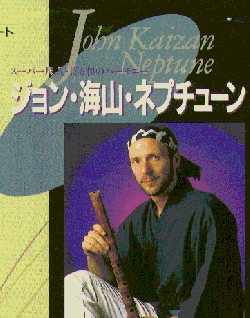 Listen to the unique sounds of the Shakuhachi Flute
Dance For the One in Six: 30 sec au sample
&copy1994 John Kaizan Neptune. All Rights Reserved
Used by Permission
There are a few instances in life when you come across a person with unique ability and sense of belonging. That was the image I got when I first met John Kaizan Neptune back in 1984.
We were introduced by a mutual friend, David Harnish. David was studying Indian music at the Batish Institute. An accomplished guitarist, he wanted to expand his horizons towards music of India. I was more than happy to accept him as my student.
John was interested in coming to US for some concerts and David connected the idea that perhaps it might be feasible to organize a concert with John, I, David and Zakir Hussain.
I called Zakir and the dates were confirmed. I remember John arrived a few days early. We were each contributing a couple of compositions for the concerts. A few days in hand for rehearsals, seemed like a good idea.
The thing I remember most about John is that he is meticulous in his practice. We learnt his compositions with all its intricate rhythmic passages until we got them just right. He in turn spent countless hours in perfecting what we were showing him. I gained a special respect for this man.
At first I was a little hesitant with this constant barrage of rehearsals. In my tradition, you practice at home and come out fighting when it's time to perform. That's simply the competitive nature of present day North Indian classical music. Not that I was unfamiliar with learning composed music; that's how I learned it form my father. As we practiced the music began to blossom. Now when I look back, I truly believe that intense rehearsal are a necessity for a tight group sound. A lot of fusion artists that "colaborate" I personally find in their music this element of togetherness missing. In many instances, perhaps it's the time constraints, or perhaps the the funding is limited, whatever the reason, many fusion artists will not take the time to "get to know" the other artist/artists they are performing. The mutual respect will always be there but this it keep them in their own conners and the music sounds like it. It's possible to "wing it" and get away with it but this will catch up as the audiences are becoming more active and participitory in their listening.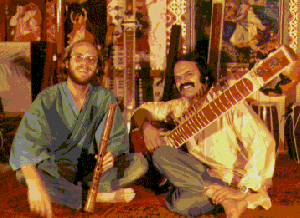 John Kaizan Neptune - Shakuhachi and Ashwin Batish - Sitar
So we all practiced like crazy. Some of my tabla students were recruited for rehearsals since Zakir lived almost 2 hours away. We sent him a tape of the compositions.
The concerts were a huge success. People come up to me even today and reminesce. It was indeed something that I was touched by. Perhaps this was what pushed me to experiment with ideas of fusing Indian music with Western forms.
Profile
John hails from native Oakland, California. He played trumpet in High School and later was a drummer in a rock band. But he has had a special interest in Indian music. When he enrolled at the University of Hawaii to study ethnomusicology he wanted to learn the Indian "Tablas." But there were no Tabla teachers. "Shakuhachi was my number two choice" he recalls.
That was quite a decision. "I was really facinated because on the high notes it sounds like a flute and on the lower ones it sounds husky, almost like a saxaphone. And when I found out it was a five-holed flute, made of a piece of bamboo, I was hooked!"
But it is in Japan that John went to study this fine art of the Shakuhachi. After a brief learning trip, he returned to Hawaii to get his degree in ethnomusicology. In 1977 he went back to Kyoto, Japan, and after a period of intense study lasting several years, he received the "shi-han" master's certificate in the "Tozan" School of Shakuhachi. At this time he was awarded the honorary name "Kaizan" which means Sea Mountain.
John is equally at home with the traditional, jazz or a world setting. His style blends to the situation. His great love of Indian music has, in many instances, drawn him towards artists form India. His CD "River Rhythm" found him journeying to Madras, India, where he teamed up with Indian instruments and players to create some truly exotic musical textures. "I have known for many years the Shakuhachi timbre would work well in an Indian setting. It was only a matter of time before I knew an album like this would finally take place" comments John. "You might say the whole project has a heavy air of Madras magic to it!"
John does not loose sight of the traditions of the Shakuhachi. In performance, he has been known to switch from his jazzy, rhythmic compositions to a solo traditional rendition similar to the Indian "alaap". The full beauty of his flute's exotic sounds wailing towards us a reminder that this man has some serious roots and chops on this instrument.
I put some questions to him......
RagaNet: Was the "smallest Shakuhachi" your idea? I remember you played that in our concert. Is anyone marketing them?
Neptune: Yes, the "mini-shakuhachi" (around 4.5cm long) was my idea. As far as I know, no one is marketing them.
RagaNet: You mentioned the Bamboo orchestra...are you teaching any of these guys?
Neptune: My new group called TakeDake (Bamboo Only) is composed of professional percussionists and they are using mostly instruments that they are familiar with: bamboo marimba, bamboo bass tubes, bamboo drum kit (with bamboo heads), and lots of other babmoo percussion. I'm making most of the instruments, and they play my music, but I'm not "teaching" them.
RagaNet: Any advice you can give to the begining Shakuhachi Student?
Neptune: Find a teacher if at all possible....check out Monty Levenson's home page, he has a nice list of teachers....my name isn't on it because I no longer teach.
RagaNet: Is there traditional music notation for the Shakuhachi?
Neptune: Yes. Maybe I should send you a copy of my book, it has the same exersises in Western notation and traditional Tozan notation.
RagaNet: Are the newer Shakuhachis designed to conform to the a=440 Western tuning?
Neptune: Shakuhachi are made generally close to a=440 but are typically a bit high (depending on the player) a=442-445. Most makers use electronic pitch analyzing equipment (myself included). RagaNet: Finally, did you get a copy of Sitar Power II? Hope you liked it!
Neptune: Thanks very much! I have listened to it many times and enjoy it!
RagaNet: A lady from Buttle Communication contacted me re. your video. I see they are marketing it.
Neptune: It is a nice short video called "Sounding Bamboo".
RagaNet: Just wanted to know if you'd like me to put any information on how someone can contact you. Your email address? postal address? phone # etc."
Neptune: "All of these are fine, please include the fax number as well:
So here is how you can get in touch with John.... :-)
John Kaizan Neptune
1091 Kita Komachi
Kamogawa-shi, Chiba-ken 296-01 Japan
TEL: 81 4709-7-1534
FAX: 81 47097-0939
EMAIL: jneptune [at] gol.com

---
But John is not satisfied just playing on the Shakuhachi. The guy makes these... and he's good too!
Reviews
Here's what some critics are saying about John and his music....
"John Kaizan Neptune has become one of the most outstanding exponents of the Shakuhachi currently active in Japan..... It is surely music such as this which deserves the label of "World Music" and which is likely to serve as a stepping stone towards the music of the future." Akira Ebato, University Ethnomusicologist
"At times the rhythm section sounded as much Latin or Afro-Cuban as American or Asian. The walls are crumbling, and if results of this caliber can be achieved, we may as well stop worrying about categories." Leonard Feather, jazz critic
"Neptune has brought to the Shakuhachi a variety of new techniques which have propelled him to the forefront of virtuoso performers." Dan Mayers, Ethnomusicology
Other Shakuhachi Related Links
The Brotherhood of Shakuhachi
While I was researching for this article, I surfed the Net and low and behold, and not to my utter amazement, I found some very dedicated Shakuhachi masters, students, and fans.

The other striking thing was how the connections I made were so closely related to each other. Everyone was either a friend, a student, or an admiring fan of John. I find this the true path to nurturing any great art.

The thing that impressed me most was their sense of brotherhood and reverence for each others schools and styles. I thank them for all their input. Here are their own web pages on this facinating instrument. Some of these will take you to other links on various aspects of Asian musics. So get a refil on that cup of Chai and click your mouse to the next destination on RagaNet's Worldbeat express!
---
I'd like to start with Monty Levenson. His page was truely illuminating. From here you can access a lot of information on this instrument and music. Including a Directory of Teachers, Information on the Shakuhachis he makes, and a source he publishes that will give you all the information you require on the Shakuhachi. He is also the person to contact if you want to get your hands on John's music.
---
Then I contacted Todd Barton. He has also studied with John. On his pages you'll find more links including music clips. I questioned Todd on his time John.
RagaNet: "How long did you study with him and where? USA of Japan?"
TB: "I've only had a couple of Master classes with John at Monty Levenson's house, but they have been worth their weight in gold!"
RagaNet: Have you performed in any concerts together?
TB: "No."
RagaNet: What did you think of his teaching style?
TB: John's teaching style is top notch! Knowledgeable, supportive, enthusiastic and sensitive to the unique qualities of each student. John is constantly exploring new boundaries of his own playing and encourages students to likewise explore their individual "voice". The basis of his teaching is long tone exercises -- once you've explored the deep and rich variety of long tones -- anything is possible.
RagaNet: "Did you learn using Japanese notation, staff, ear? Traditional/Jazz or both?"
TB: I learned traditional shakuhachi notation from John Singer. I've played jazz since high school.
RagaNet: "How are you applying the teachings in your profession?"
TB: "The long tone exercises/explorations that I learned from John serve as the basis on my own teachings to my students."
Todd has souped up his Shakuhachi with a Lexicon Alex and Vortex (for morphing effects) along with an Akai Electronic Valve Instrument driving a Korg Wavestation SR and a mic for hand percussion. All of which go through an Oberheim Echoplex with 2 minutes of sample/loop time...... Is this happening or what!! I'd like to get this guy on a stage and jam!
---
Then I found a link to Ronnie Nyogetsu Seldin's web site. Ronnie studied Shakuhachi in Kyoto, Japan with Kurahashi Yodo Sensei, who was a disciple of Jin Nyodo. There in I975, he received the name Nyogetsu and a teaching certificate at the level of Jun Shi-han in the Kinko school of shakuhachi.
His background is truely impressive. He is also great friends with John. They have often performed in concert. Ronnie explained to me the various schools of music. Here is some of that information. I will try and isolate the answers with questions I posed and some of these run together
RagaNet: "Where can one get a Shakuhachi? Are these custom made for each individual? Do the tonal centers on these instruments vary? or are they now designed around the Western A=440 tuning system?"
RN: "Shakuhachis are constructed (now-a-days) to conform to A= 440...But they are not custom made for the individual. Of course, they come in all different lengths . The ZEN music is usually performed on longer instruments. It takes (they say) 20 years to learn how to play or make an instrument- so I only play! However I always have 40-50 on stock from Japan. Of course they are expensive."
RagaNet: "Do you like playing this instrument in the traditional, Western, Fusion, or all these styles?
RN: "My main interest is the traditional zen repetoire- although I teach, and perform original and modern music as well.
RagaNet: Any advice for a begining student?
RN: To begin study you simply need a flute and a teacher. If there is no teacher near you I, as you can see from my page, do teach by cassette..I just sent a lesson to my student of three years in New Zealand. What would be best, however, is to try to get the First lesson in front of me, or any other teacher, if at all possible."
RagaNet: "How many different schools of Shakuhachi are there? I noticed you got your degree from the "Kinko" school and John got his from the "Tozan" school."
RN: "There are about 50 schools of Shakuhachi. "Kinko," mine, is the largest and the oldest and most concerned with the zen music and the chamber (Trio ensemble) music. "Tozan," John's, is the 2nd largest and concerned with the chamber music and modern music. By the way John is a dear friend of mine, a wonderful player and we've played together many times!"
---
Then I contacted Larry Tyrrell of Moonbridge Records.

RagaNet: "Do you know John?"

LT: Not personally though I have met him.

RagaNet:Have you worked with him before?

LT: No.

RagaNet: How many Shakuhachi masters are in existence today?

LT: That's a tough one. It may parallel Indian classical music in some ways in that there are certain people who are 'masters' in the traditional sense. However, there are numerous people who, while possesing masters licences are not truly masters. Recently, there are an increasing number of professional players, some of whom are virtuosi. A few of those, including some of the greatest players, possess no licence of any kind.

A more practical answer to your question would be to estimate the number of professional players who make their living solely from shakuhachi. This may be no more than a few hundred.

RagaNet: How long have you played this instrument?

LT: 15 years.

RagaNet: How long did you study this instrument?

LT: Study in a sense never ends, although I spent 6 years studying formally in Japan.

RagaNet: Where do you buy your Shakuhachis?

LT: Various sources; I play and import some made by an American expatriate, Tom Deaver, among others.

RagaNet: Any words of advice for a beginner?

LT: Let the sound be itself; it will reflect your devotion and personal growth.

RagaNet: Anything else you can add will be great.

LT: With shakuhachi there is no one ideal sound. There is no need to strive for a particular type of tone color. With the right kind of sustained effort your sound will grow into a beautiful and expressive thing.

Some of the persons I was not able to contact: Here are their sites.
---
John Kaizan Neptune - Discography
Bamboo Textures, Toshiba EMI, LP & Cassette 1979
Joy, Kosei Publishing, LP 1980
Bamboo, Toshiba EMI, LP 1980 / Inner City, LP 1981
Shogun, Toshiba EMI, LP 1981, CD 1984 / Inner City LP 1981
Mixed Bag, Toshiba EMI, LP 1981 / CD 1984
West of Somewhere, Toshiba EMI, LP 1981, CD 1984 / Milestone, LP 1982
Two in Flight, Toshiba EMI, LP 1982, CD 1984
Dance For The One In Six, Kosie, LP 1982, CD 1992 / Oasis, CD & Cassette 1992
The Circle, Nippon COlumbia, LP 1985, CD 1986
Jazzen, Nioppon Columbia, CD & LP 1987
Tokyo Sphere, Victor, CD 1988 / GRP, CD 1989
Sky Spirit, Victor, CD 1991
Words Can't Go There, Nep Tunes (Victor), CD 1991 / Oasis, CD 1992
Kite, Kosei, CD 1994
River Rhythm, KOsei, CD 1994
Prime Numbers, Nep Tunes (Victor), CD 1994

Books by John Neptune

Shakuhachi (1978), Publisher - Neyenesch Printers Inc., 3402 Trophy Dr., La Mesa, California 91941-8037 (619) 469-4853

This book by John, is designed for basic information and guidance. Music exercises are written in Shakuhachi and Western music notations. The exercises are also available on cassette. Topics covered are History, Information on the Kinko and Tozan schools of Shakuhachi, How to care for your instrument, Tone Production, Musical articulations, grace notes and finally the exercises. (67 pp.)
Ashwin Batish
Managing Editor
Issues:

Please Note: All content is copyright ©2003 Ashwin Batish. All rights reserved. Unauthorized copying, photocopying, transmitting this document on hard paper or electronically or by any other means is strictly prohibited and unlawful. You have our permission to link to this page.

---
email: info [at] batish.com copyright ©1995 - 2003 Batish Institute. All rights reserved. Intended For Personal Use Only. No part of the information here may be reproduced or utilized in any form or by any means, electronic or mechanical, including photocopying and recording, or by any information and storage retrieval system, without specific written permission from the Batish family.