A publication of the Batish Institute of Indian Music and Fine Arts
---
Lata Mangeshkar
The Golden Years - My Friends and Colleagues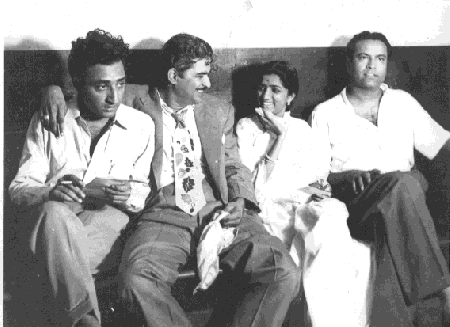 Pictured from left to right
Mr. G. M. Durani - Mr. C. Ramchandra - Miss Lata Mangeshkar - Mr. S. D. Batish
It was around the year 1945, when I had the oportunity of meeting Lata Mangeshkar, also addressed among her admirers and fans in Maharashtra province and among the music community of Bombay (presently called Mumbai), as "Latabai."
The late Pandit Amarnath, his brother-in-law Shri Kashmiri Laal, and myself, had recently come from Lahore in connection with a "Music Direction" assignment for the film "Shaam Saveraa." This movie was being produced by Mr. Mohanlal Kapoor, a wealthy person with a lucrative diamond business.
Also in our company at that time was Bhagat Nigaahi Raam, one of the prominent preachers of Punjab. He was a great friend of Pandit Amarnath's father, Pandit Devi Chand. He was on a visit to Bombay.
I remember Pandit Hussan Laal, the youngest brother of Pandit Amarnaath, bringing his car and driving all of us to an old temple in a suburb located between Tardeo and Grant Road.
This temple had some adjoining living rooms in which Miss Lata, along with her mother, sisters, their younger brother and other family members used to live.
On reaching there, we were received by someone on behalf of Miss Latabai. He took hold of a couple of Khatias (cots made with jute rope) on which he spread some dhurries (heavy hand woven mats) and requested us to sit there while Miss Lata was getting ready to meet us.
After a short time, we were ushered into her room, where we had a nice long meeting. Pandit Amarnath, Hussan Laal and Bhagat Nigahi, were the main speakers and active participants at this meeting, whereas, I and Kashmiri Laal were the almost silent listeners.
I found that Lata had a very charming girlish personality. She had a quiet and gentle disposition. She was extremely elegant in talking, and very intelligent in providing prompt and accurate answers to any question. Every now and then, during our talks, a family member would barge in and without asking for any excuse, would directly speak to Latabai in Marathi dialect. This I could not understand. All I remember was her sweet sparrow like voice when she replied back.
Her very first song of the film "Mahal" - "Aaegaa Aane Waalaa", was composed by the late Khemraaj Prakaash, a permanently employed music director of Ranjeet Movitone. This film was created for "Bombay Talkies", and was directed by "Kamal Amarohi" of "Pakheezaa" fame. This song had already swept over the whole of India and made her a celebrated playback songstress. With this, she had toppled almost all her contemporary female vocalists.
Our meeting went on very nicely. We were there for almost an hour. Upon conclusion of our meeting we all took leave and she smilingly bid us farewell. This episode, started a good friendship between us.
We didn't get a chance to meet again until a few years latter. A lot had happened in India and with me. In 1947 a civil war had broken out. The formation of Pakistan prompted my move from Lahore to Delhi. Latter, I moved to Bombay to be closer to the music and the movie industry.
By this time Lataji had shifted to her new apartment on Malabar Road, near Chowpaty, Bombay. She sent me a personal invitation for a house warming tea party. Many of the film industry's playback singers, including a few specially invited music directors, assembled on this occasion. The party was quite pleasant and it gave further opportunity for a better mutual understanding between us. Lata, her sisters, mother and youger brother were all there and we had an enjoyable time.
Over the years, I had the privilege and pleasure of acquiring her smart, sweet and unique voice for my compositions in the films "Haar jeet" where she sang "Bahota Dina Beeta Gaye Baalmaa", Betaab where she sang "Abhi Kucha Raata Baaki Hai", Toofan where she sang the song "Khwaab Men Ham Ko Bulaate Ho, Ye Kyaa Karte Ho" and a few more. All of them have been hit songs and have ever since won praise in the industry and our fans and admirers, not only for their musical content but also for their renditions by this great songstress.
I am happy to see that in these past 50 years since we first met, Lataji has not only acquired fame but an unprecedented recognition by the Guiness Book of Records for bringing her voice to a huge number of hit songs. Her life and times are well documented. May god bless her with many more years of activity and good fortune.
---
Watch for more article in the series The Golden Years - My Friends and Colleagues by S. D. Batish. These articles are excerpts for an upcoming autobiography being written by Pt. Shiv Dayal Batish of his life and times in the Indian film industry from 1936 to Present.
---

Please Note: All content is copyright ©2003 Ashwin Batish. All rights reserved. Unauthorized copying, photocopying, transmitting this document on hard paper or electronically or by any other means is strictly prohibited and unlawful. You have our permission to link to this page.

---
Issues:
email: info [at] batish.com copyright ©1995 - 2003 Batish Institute. All rights reserved. Intended For Personal Use Only. No part of the information here may be reproduced or utilized in any form or by any means, electronic or mechanical, including photocopying and recording, or by any information and storage retrieval system, without specific written permission from the Batish family.